Ahh Zion, Zion, and more Zion. I have to admit that I actually enjoyed watching Zion play this year, yes, you read that correctly, the ultimate UK Basketball jerk of all time, me, actually admitted enjoying watching a Duke player.. play. He will go down as one of the most dominating college basketball players of all time but all that is meaningless at this point, he is for sure on his way to the NBA.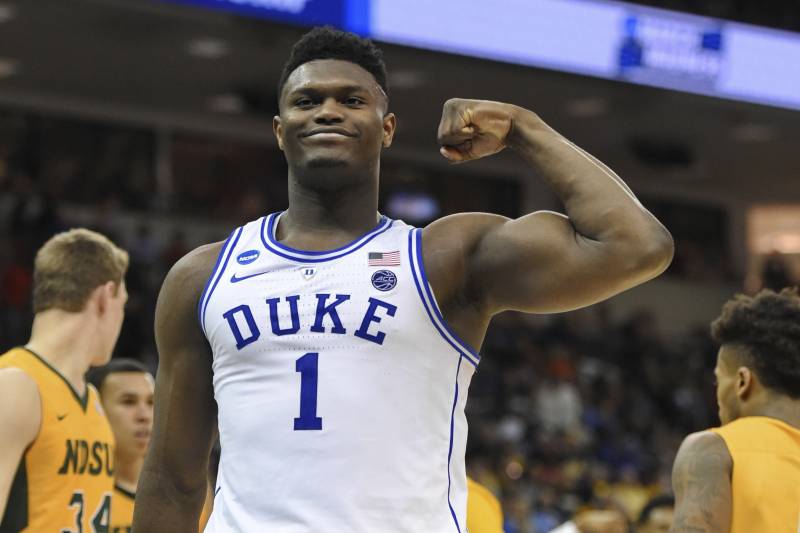 Where does Zion fit in the systems and schemes that is the NBA? Well it will come down to many factors but one main factor is his "actual" height. He measured in at 6 foot 7 inches last year and that may be a bit of a stretch, pun intended by the way. His vertical, his strength, his shooting ability will be less important than his height.
Williamson is, as far as the eye test is concerned, a 4 or Power Forward due to his insane strength and athletic abilities but Williamson is about 2 to 3 inches too short for the traditional 4 position in the NBA. He did demonstrate here and there the ability to play the 3, or small forward position, his shot improved as the season progressed and he does have decent passing ability but he's big, really big and he will have to have a motor like none other before him to play the 3 as effectively as some do in the NBA due to his 285 pound frame.
But this quote from none other than Sir Charles Barkley says it best about Williamson's future NBA position.
"People try to compare us, and he's more explosive than I was," said Barkley, a 6-6 Hall of Fame power forward who overcame doubts about his undersized status. "It would have been easier for him to play in my day than in today's game. Back then, we just beat the hell out of each other. What position does he play now? I'm smart enough to know it would have been difficult for me to chase these little munchkins shooting threes and running around picks today. It's a different animal and it won't be easy for him." Source Washington Post
Now Barkley should know, and he does know as he was the most versatile undersized power forward in NBA history. To compare Zion to a Barkley is highly premature and considering Barkley's comments above he certainly has his doubts that Williamson can cut the mustard as he did. I am keeping my ear to the train tracks to see if I hear this overwhelming Zion rumble from the likely lottery teams at the top, teams like New York, Cleveland and Phoenix. As of now I am not hearing that front office rumble. Right now there's just talking head hype about playing at MSG and being a prime time superstar the fans can worship, no real basketball talk, just hype.
Either way whatever team drafts him will have to "Fit him in" to their system(s) and that's not going to be easy, it will be a struggle. There's no way he can "as Barkley said above" chase these munchkins around shooting threes and continuously fighting around, yes around and not through, pick after pick after pick. I seriously do not think he will work out well as a 3 or a small forward due to his size. It remains to be seen if he can go up against 6-10 and 6-11 power forwards and be successful.
And this may not be as far-fetched as it may appear when you read it. His 6-6 Shooting Guard teammate RJ Barrett may in fact be a smarter number one pick than a Zion Williamson due to his traditional size and ability at his natural position and Barrett fits into the budding analytics of the NBA. Duke great Jay Williams said the same exact thing back in January. The ESPN hype machine, I believe, has overstated the future NBA star ability of Zion Williamson to a point where a team picks him for the hype and publicity rather than his future long-term NBA stock. I hope the kid is a success in the NBA but we will have all the answers to these question in a few years when Zion is an allstar or a regulated position player like so many others who get lost in the pre-Draft hype.