This is not a hit piece on Bruce Pearl, and Auburn Tigers' amazing run to the Final Four, simply because my wee-wee is hurt in the wake of our pathetic loss in the Elite Eight. This is a reality piece that will indeed come into focus in the off season.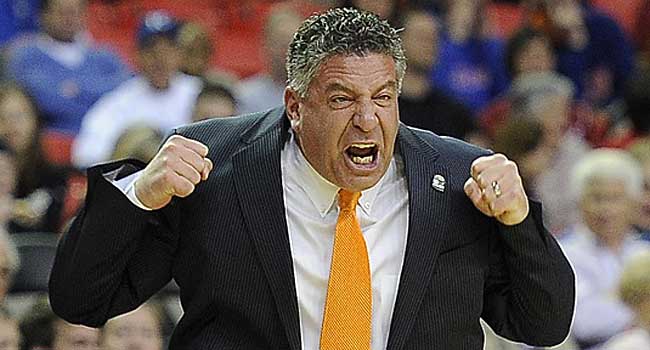 Not one but TWO Auburn Assistants are caught up in the G-Man dragnet into the corruption in college basketball. Most notably, disgraced assistant Chuck Person is set to appear in Federal Court in June and as of two weeks ago he has pleaded guilty. Another Assistant Coach Jerome Allen
has apparently testified
that he took money when he was coaching at Penn. What does this mean for Bruce Pearl and their Final Four banner? Or maybe even a National Championship? That will be one of the most intriguing questions in the college basketball off season. Well one thing is glaringly apparent, Pearl is staffed with corrupt minded assistants and the overall investigation will look at everything possible in its attempt to tie Pearl to the corruption. Of course it will come down to if Auburn has played any players that will be deemed ineligible by the NCAA once all the dirty laundry has been hung out to dry. We already know that The NCAA ruled Austin Wiley and Danjel Purifoy ineligible for all of last season, however, is that the end of the story? Did Pearl know about any of this?
Many questions will be answered but the big one on everyone's minds is; did Bruce Pearl have prior knowledge of this scheme? I am not a Federal Judge and or a Jury and I will not speculate and say he did or did not know. We have to consider Pearl's history to better predict a possible outcome with the NCAA.
1. The Incident: When Pearl ratted out Illinois Assistant Jimmy Collins for "allegedly" offering a high level recruit, Deon Thomas, an SUV and Cash. Pearl recorded a conversation between him and Thomas and turned the tapes over to the NCAA. This cemented Pearl's reputation in the college basketball world.
2. The Barbecue: Aaron Craft and others attended a cookout at his Knoxville home and knowing it was against NCAA rules encouraged everyone to keep their mouths shut. Pearl lied to NCAA investigators and also told Craft's father to lie as well. Of course Pearl was fired at UT and was slapped with the dreaded Show-Cause Penalty.
3. The FBI debacle and his refusal to not only talk to the school but also refused to talk to the NCAA in the early stages of the revelation.
The NCAA will direct every heartbeat into vacating this year's amazing run to the Final Four and Possibly a National Championship, make no mistake about it.